HomeBuddy

A next-gen iOS solution for a subscription-based home services marketplace app
Background

Millennials report
difficulty in finding reliable and affordable contractors
for home services. My team and I were asked to build an innovative home services eCommerce marketplace that
connects millennial renters and homeowners to local home service professionals
.
Research Objectives


---
1. The Process
We used the Double Diamond Process in this project:
---
2. Discover
Exploratory Research
Based on the 2017 CORGI HomePlan survey:
Key Trends
Key Competitors

Survey & User Interviews

Demographics

Key Survey Findings
Quick onboarding process and price comparison

between service providers were listed as the

most important things

when using an on-demand platform for the first time.

Mobile as the preferred device.

Respondents claimed they feel comfortable making in-app purchase

Users expect to see

ratings and reviews

when looking for the ideal home service professional.

The

problem

with existing on-demand home services include

professionals not showing up

or being too late,

poor quality of service

and

charging more

than the estimate.
Key User Interview Findings
Interviews subjects want the ability to

contact professionals before

a job is

carried out.

Users would like to have a platform in which they can have a

video consultation

with experts and then decide if they would like to fix the problem themselves or if they want to hire someone to help them.
We then conducted affinity diagram sessions to synthesize survey and user interview results, as well as identify trending insights and themes.
---
3. Define

Our team started the converging process by brainstorming, iterating and finalizing a variety of impactful design principles to guide our project that are supported by our research findings.

Problem Statement

Who? The hard-working millennials

What? Need a convenient, cost-effective, safe and reliable way to find and book on-demand home service professionals

Why? Their lack of time and DIY knowledge.
Persona
Our persona, Lauren Brown, embodies our primary target user. We then built out a journey map for Lauren.
---
4. Develop

Research Artifacts
Our team implemented ideation and conversion methods. Our final artifacts, which can be seen below, visually communicate our team's brainstorming process and outcomes.
Storyboard, Six Thinking Hats, and Mind Map
---
5. Deliver
In order to show and align the structure of the application as well as its content, taxonomy and functions, our team created an app map.
App Map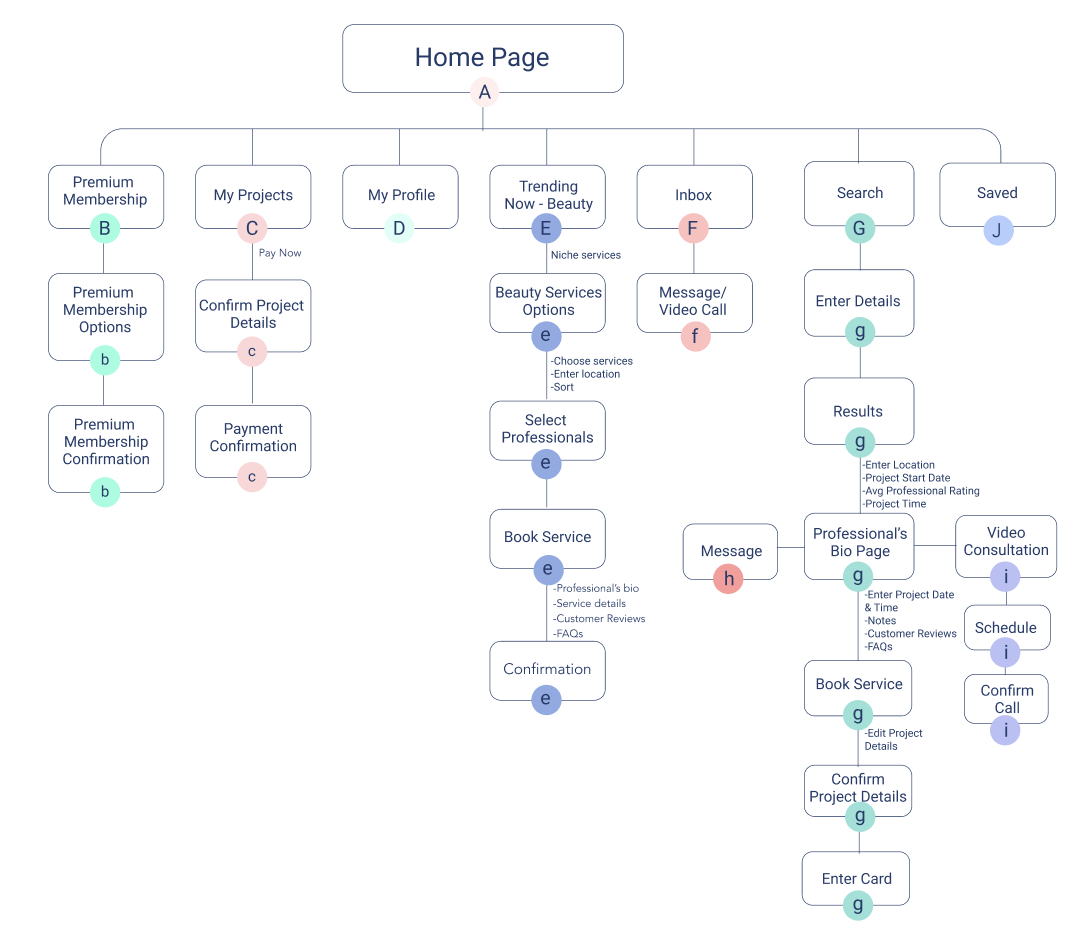 Wireframes
At the same time, our team designed some concepts to
solve the problems listed above
, such as a
premium membership flow
to create loyalty and retain users,
video consultations feature
in which users can assess what service needs to be done and how much it will cost and finally a
niche booking flow
offering services such as beauty, cooking, and dog walking with easy ways for communicating with the service provider.
Usability Testing on the Mid-Fidelity Prototype
We conducted usabilty testing for our mid-fidelity prototypes to gather feedback and iterate on our design.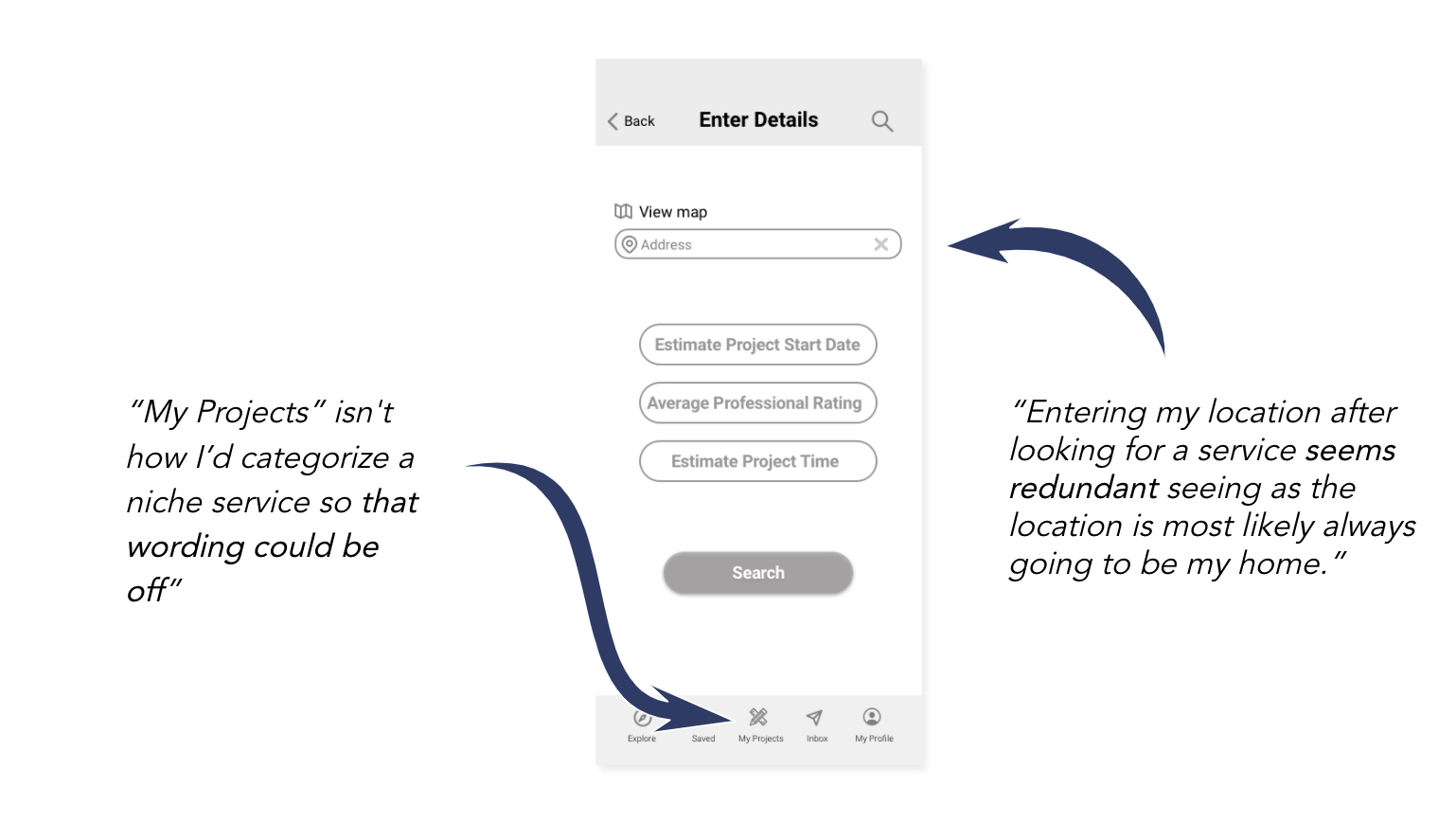 ---
6. Final Deliverable

Our team has spent time ideating and challenging ourselves to think outside the box. We were ultimately able to focus on key functionality, innovative features, and user flows that best address the problem statement, which can be seen in our
final

mid-fidelity prototype
.
After our team finished the project, I decided to bring it to life by creating a high-fidelity concept that embraces the design principles developed during the ideation phase - Friendly, Conversational, Trustworthy, Convenient and Transparent.
Future Recommendations
Further usability testing with a high-fidelity prototype
Muilti-device support (currently only iOS)
Strategic partnerships with Video Call Platforms (i.e. Zoom, Google Hangouts)
Referral Systems for professionals/users