PLAPP: Library App

A mobile all-in-one solution to increase usage across all New York Public Library resources
Summary
Our UX team created a prototype of an all-in-one mobile app. Currently, the library has several different apps, each with limited usage. Our goal was to
provide a single app that would also emphasize the NYPL's career services resources, classes and general events
. This app aims to help
strengthen our local communities by setting them up for more successful careers.
My Role
UX Researcher & Designer, UI Designer
Background
As technology and automation are increasing the risks of unemployment,
there is a greater need for the library to help its community navigate social change
. The role of
providing free access to information and services for everyone is central to the mission and culture of the library
. In an effort to expand the economic and social opportunities provided by digital technology to all its members, the local library desires to
build a digitally inclusive community
. Yet, libraries have struggled to
stay relevant in the lives of adults in the twenty-first century
, and have a lot of incredible untapped resources that go unused.
Project Goals
Approach
To gather insights on the current library experience from library staff and frequenters, as well as adults who rarely take advantage of the library, with a focus on people's perceptions of the library.
---
1. The Process
Our process was based on the Stanford d.school of design thinking process theory. We incorporated the following key phases:
---
2. Gathering Insights

Domain Research
Initially, we conducted a
SWOT Analysis of the NYPL
to better understand strengths and opportunities that the public library should tap into to stay relevant.
Findings


We found that visits to public libraries rose 20% over the last 10 years, and library program attendance rose 50% in the same period, but a majority of NYPL users tend to be the elderly, children, and the homeless. The general public still overwhelmingly has a negative or ambivalent view towards the library.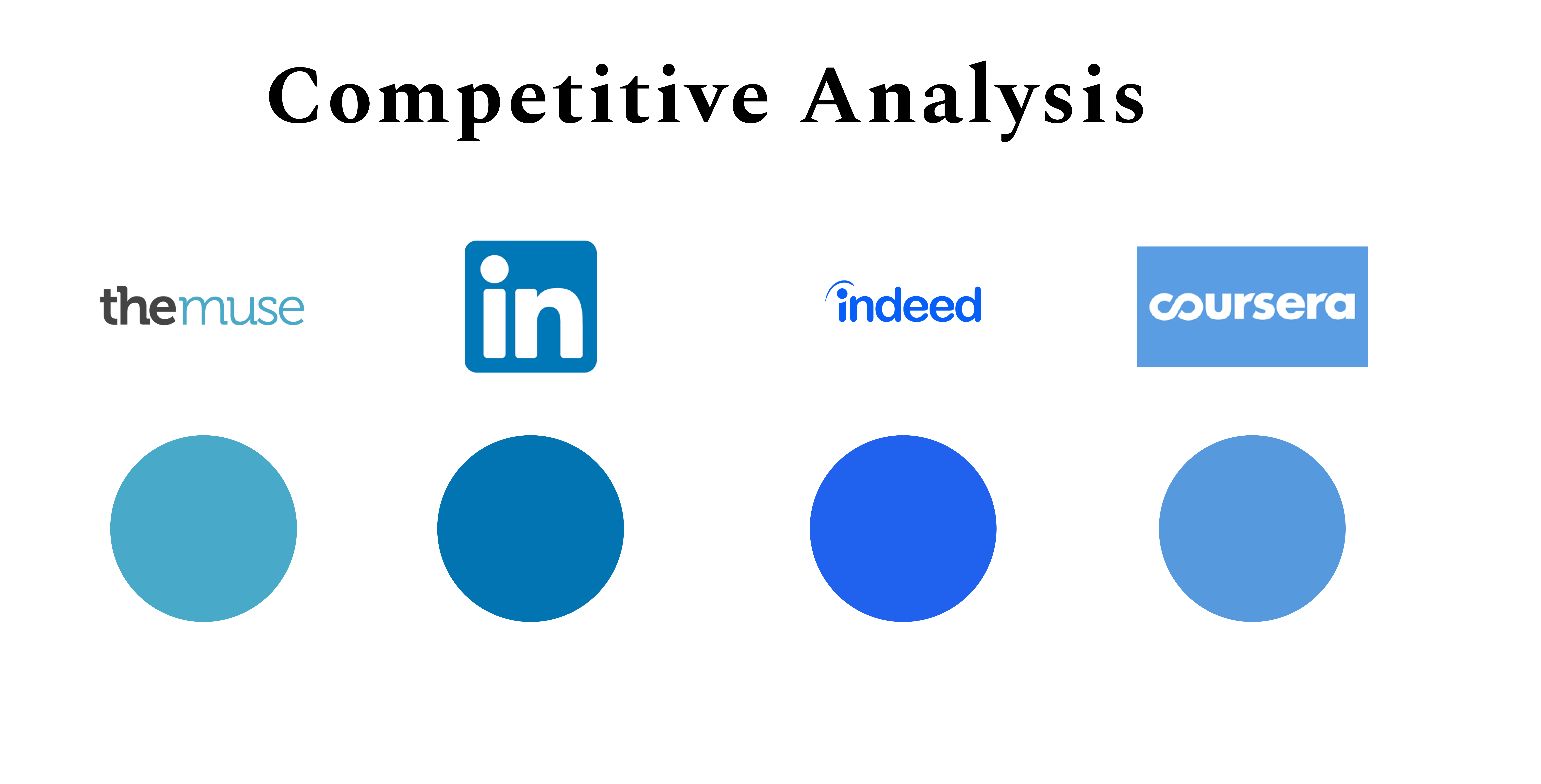 Competitive Analysis
We considered career services, online learnings, and job-search platforms as competitors: Coursera, Coursehorse, LinkedIn, Glassdoor, TheMuse, and
Indeed.com.


Findings


While the competition has a great selection of courses and job-searching capabilities, the NYPL is poised to succeed because its career coaching and related classes are free of charge and has potential to reach a more socio-economically diverse audience.
After collecting data from Subject Matter Experts and User Interviews, as well as doing Contextual Inquiries, our team conducted affinity mapping to synthesize the pain points identified. We grouped these problems under common themes, such as "Young adults mindset and the library", and features in the platform.
---
3. Narrowing Down the Problem
Our team surveyed
42 adults
mostly between the ages of
18 and 32 years old
. Based on the survey results, we identified the following key issues:
A majority of respondents rarely or never visit the library
76% prefer mobile, followed by 21% who prefer laptop/computer
52% of users said that they have never visited the library's website. When asked about the reasons they visited the website the majority of answers revolved around searching for books and reserving books online.
Nearly 90% of survey respondents said that they didn't know the library offers career support or classes
Persona & Journey Map
Our persona embodies our primary target user. James Smith wants to pivot careers but doesn't know where to start, and feels overwhelmed by the fact that he doesn't have enough time or money to go back to school.
James's Journey
James works a full time job as an office manager for a tech company. He sees colleagues who are excited and growing in their careers, but feels stuck and would like to be passionate about his job.
---
4. Exploring Solutions

We put together paper wireframes to solve the above problems:
Creating a home screen that establishes clear visual form hierarchy by grouping related fields and showcasing the primary functions of the app;

Designing career services, online and in-person classes and events flows;
Developing MECE navigation between all library resources

Imagining a partnership between Indeed.com and the NYPL allowing job-search directly from the app
We also built an App Map aimed at better visualizing the app's functions and screens.
---
5. Testing

Our team conducted usability testing sessions with potential users who fit into the target demographic, represented by our persona, James Smith. The specific goals of the test included getting different perspectives on the Public Library educational app by listening to how users experience and relate to the designs shared.
The usability test was a combination of thinking out loud moderation during the prototype exploration while completing a task based on a user scenario, followed by a short interview.
The test objectives included:
Evaluate feature functionality when signing up for an event, reserving a book, applying for a job and signing up for an interview prep workshop

Find disruptions in the workflow
Overall human-machine interaction
Confirm hypothesis about app intuitivity
Recognize pain points that create confusion and difficulty
Identify potential features to be added to the app
---
6. Final Product

Due to time constraints and COVID-19, we did not have the opportunity to share our results back with the NYPL, however we presented the following
high-fidelity prototype
to our cohort.