MenuTap

Self-serve web platform for restaurateurs to update menus across 3rd party platforms
Client
TappedIn
is a marketing and analytics company for the restaurant industry. They have recently started building a menu management tool for small - mid-size restaurants.
Team
Background
In a COVID-19 world, restaurants are doing everything in their power to increase their online presence and distribution.
Restaurants are opting into 5-10 third-party delivery companies and online ordering apps
. Each has a separate platform to manage its online menu, and
none of them talk to each other, requiring tedious and duplicative manual work
to keep them all up-to-date.
Mission
Completely revamp and overhaul the look and feel and the flow of the MenuTap product, to allow TappedIn's clients to control all of their menus from one platform.
---
1. The Research Process
Our team received the following original user flow and mock-up from TappedIn.
The following experience was never actually launched to TappedIn's clients, so as our starting point, we decided to take some time from our user interviews to test their initial concept.
In our first sprint, we conducted
Competitive Analysis
and
Exploratory Research
to get a better understanding of the market, trends and prove or disprove the given hypotheses. We also
interviewed potential Users and Subject Matter Experts
including restaurant owners and general managers, TappedIn employees, and people who work at TappedIn's strategic partners (ie 9Fold).
In order to analyze the interview results, our team created an
Affinity Diagram
board that can be seen below.
Key Trends & Insights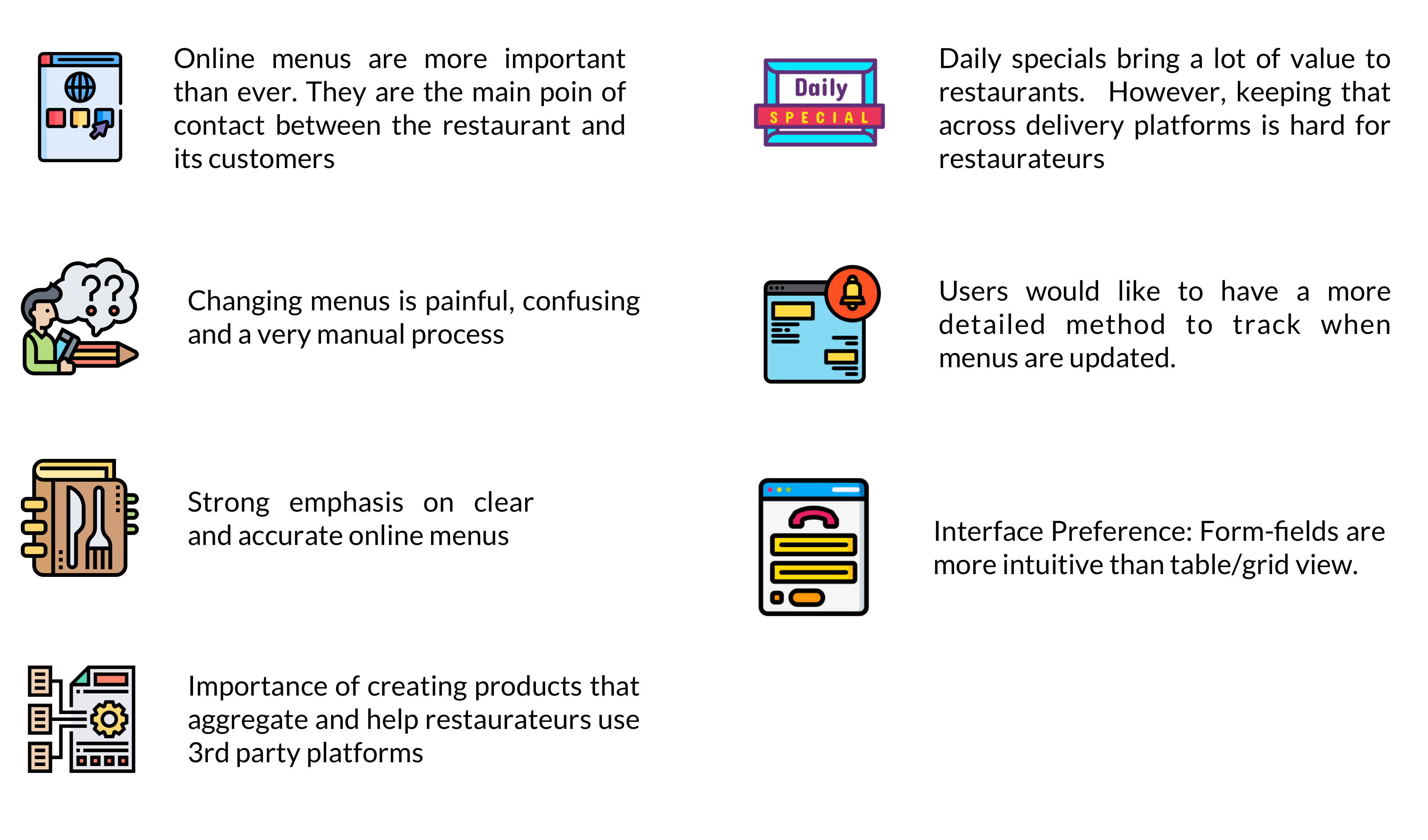 Validating Assumptions

Are restaurateurs willing to learn how to use a new digital platform?
SME and user interviews validated that most restaurateurs aren't tech-savvy but are willing to learn new technology if it will make their lives easier
What are inconsistencies across platforms?
Different interfaces and wording for the same action
---
2. Brainstorming & Ideating

Given TappedIn's short turnaround requested, our team decided to host a session to align on priorities and the problems we were trying to solve and list them before sketching our solutions.

Problems to Solve

Reduce manual processes to update menus across multiple platforms
Free up time of busy restaurant owners
Improve tracking capabilities for menu updates
Simplify complex user interfaces

User Flows
After discussing and aligning on our priorities, we started building the main user flows: onboarding, adding a menu and adding a menu item, editing a menu/menu item and creating a modifier.
Add & Edit Menu Flows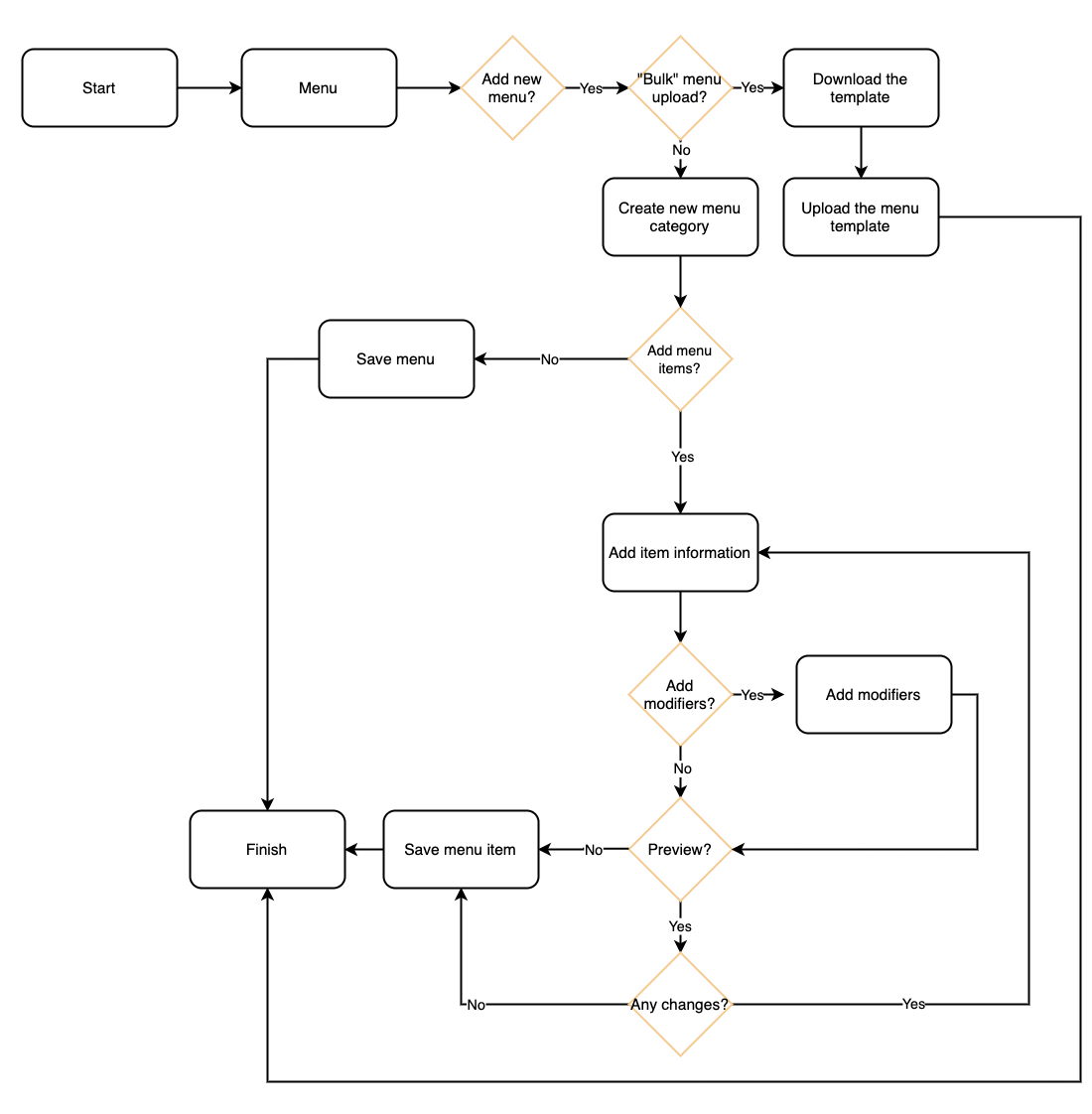 MenuTap Wireframes
We focused on several key areas and got some interesting feedback which powered our iterations.
1) Upload Menu Concept
2) Adding information through form fields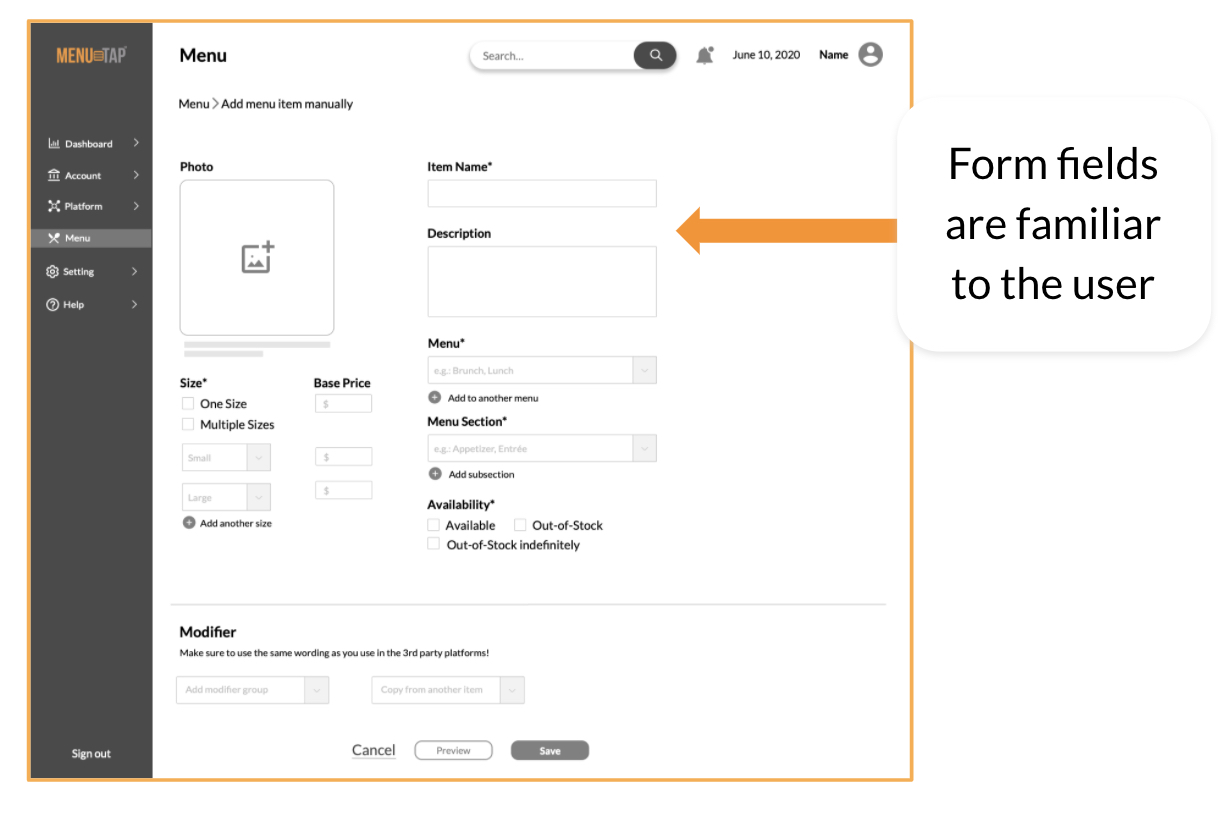 3) Platform's analytics dashboard, with improved communication with notifications and previews enabled.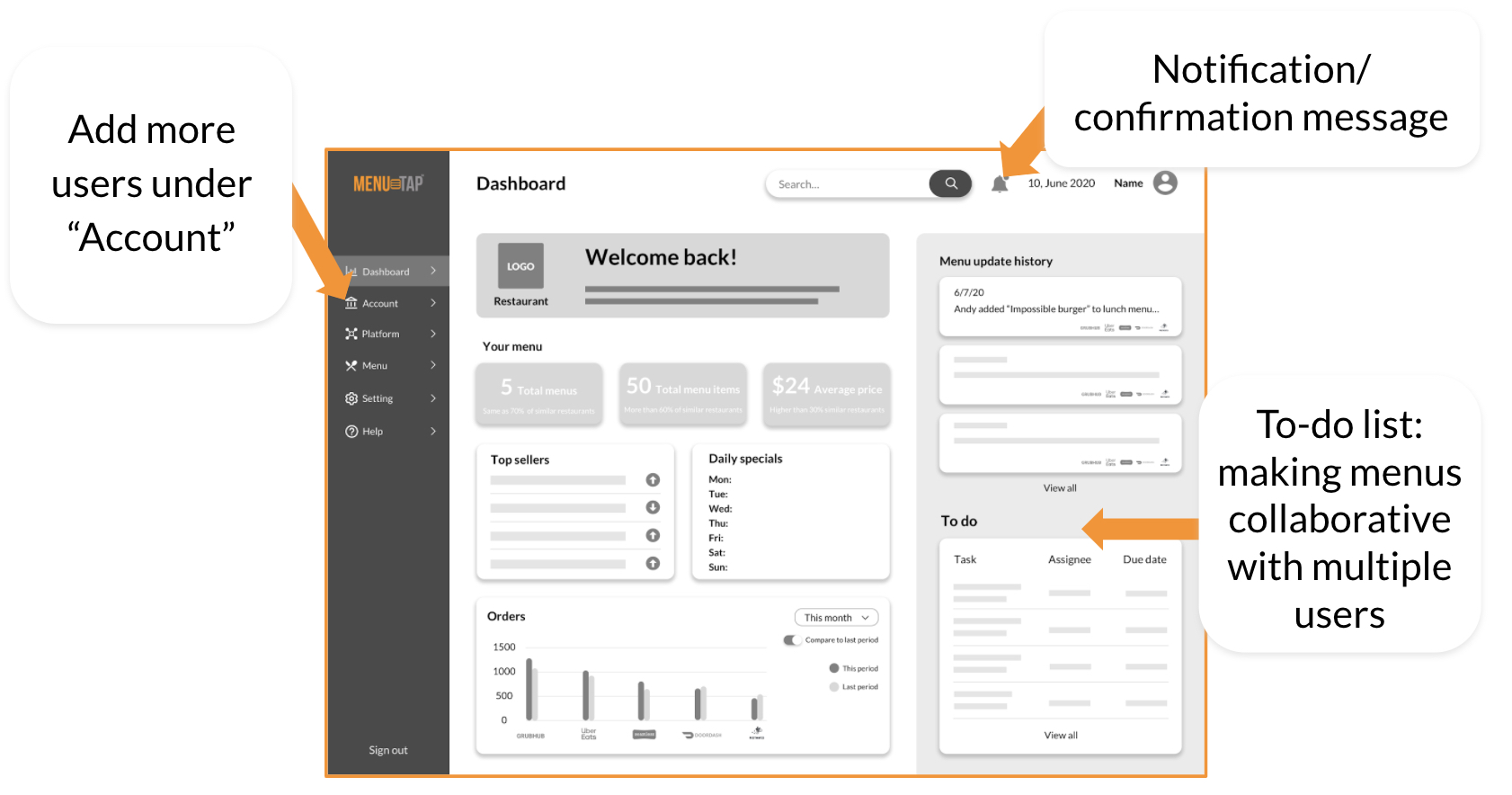 Usability Tests & Iterations
Users said they'd like to see a modifiers column and would recategorize the menu tabs from meal-based to customizable categories. (Breakfast, Lunch, Dinner → Meats, Pastas, Entrees, Appetizers, etc)
We designed a button that users clicked to sync to the platform, and we wanted to make sure that the CTA was clear. This had great results. However, the actions button, the three dots, felt very hidden and it covered part of the menu. We made sure to iterate on this for v2.
We A/B tested the menu information screen in a pop-up and in a new page to understand users' preference. 5 out of 7 interviewees prefered the pop-up screen because they said it gives them more context.
Given the results from the SME and User interviews, we decided to move forward with the word modifiers for anything that users can customize in a dish, which made sense for interviewees. However, users didn't understand what the "Combine with" checkmark button would accomplish.
After collecting this data, we made iterations to MenuTap and conducted a second round of testing that proved that we were designing in the right direction.
---
3. Final Presentation & Deliverable

We ultimately synthesized all of our research and our prototypes, and presented to TappedIn's CEO.
Our work can be seen best in our final
mid-fidelity prototype
or in the video below.
---
4. Measuring Success
I set three KPIs for us to track throughout this project:
1) Increase CSAT score by 29% from first usability test to final usability test.
We exceeded our goal! The first round had an average CSAT of 3.5/5 an the final round averaged 4.5/5, an
increase of +29%.
2) Reduce time spent updating menus manually by 10%, as measured by restaurateurs.
While we couldn't fully measure this with mid-fidelity prototypes, the final user tests anecdotally believed that our new and improved MenuTap platform would save them >10-15% of their time.
3) Enable restaurateurs to easily understand the value that each third-party delivery platform is bringing their bottom line.
Restaurateurs overwhelmingly believed that our dashboard would help them make strategic decisions on which delivery partners are providing the most value.
After we finished the project, I decided to bring it to life further by creating a high-fidelity concept. Future Recommendations
Guided onboarding would help improve overall user experience
Build out Account, Settings, and Help Screens
Enable double click to edit cells
Further usability testing with a high-fidelity prototype
Design mobile version of the platform
POS integration